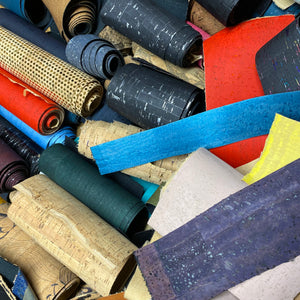 Cork Scraps - Shipping Included!
More than 900g (2 pounds) of cork scraps.  Can be used for small projects, earrings, card holders, straps, appliqué etc. 
These are prepackaged, in padded envelopes. Shipping within Canada or to the USA included in the price - will not combine shipping with anything else. Please choose "free shipping" at checkout.  If multiples are bought, it may go over the shipping threshold, if this happens consider checking out multiple times.
International beyond USA orders will be charged extra for shipping.