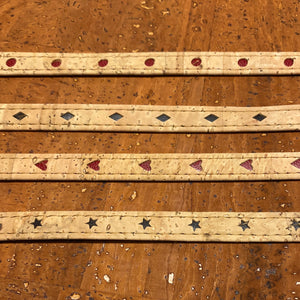 Cork Strapping - Decorative Inlay cork strapping
Decorative Inlay Cork Strapping ***SOLD BY THE HALF YARD
Custom factory made strapping in beautiful natural style cork fabric, featuring cut out inlays - red hearts, red circles, black diamonds or black stars.  The inlays are vinyl. I will cut continuously.
Total width of strapping is 10mm - just under a half inch.   
This factory made strapping is a total of two layers of cork with a straight, clean centre seam in the middle of the backside.  Perfect for bracelets, or straps and handles for your bags!
Strapping is sold by the HALF YARD (18") If you would like a full yard (36"), please enter the quantity of 2, If you would like 1.5 yards (54") please enter quantity of 3, etc etc
Please note if letter mail shipping is chosen with this product it will be folded.